April 15, 2023
Why Sheer Curtains Are Perfect For Any Room?
Curtains are a vital element of every interior design, and they can make or break the overall look of any room. They not only serve the functional purpose of blocking light and providing privacy but also add a decorative touch to your living space. Choosing the right type of curtains can transform the whole ambiance of a room and create a cozy and inviting atmosphere.
Sheer curtains have become a popular selection among the various curtain types available. These curtains are crafted from a lightweight, translucent material that allows natural light to penetrate while still ensuring privacy. They are versatile enough to be incorporated into any room of the house, ranging from the living room to outdoors.
The benefits of sheer curtains extend beyond their functionality. They add a touch of elegance and beauty to any room and are an excellent choice for those who want to create a soft and romantic ambiance. In this article, we will delve into the reasons sheer curtains are perfect for any room in your home. We'll discuss their benefits, how to choose the right type, and tips for decorating with them.
What Are Sheer Curtains?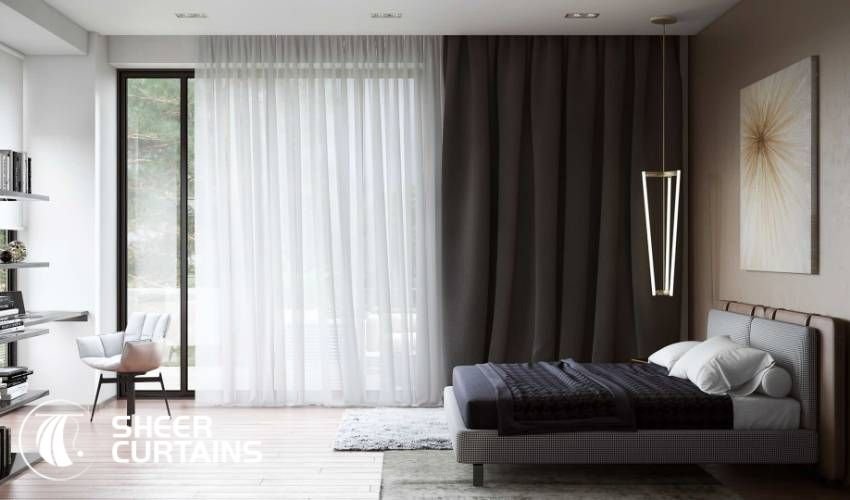 Sheer curtains are a kind of window treatment made from translucent, lightweight fabrics such as voile, chiffon, or organza. Unlike other types of curtains, sheer curtains offer some privacy while still allowing light to stream through.
There are several types of sheer curtains available in the market, each with its own unique features. For example, some are made from a blend of natural and synthetic fibers that provide durability and a soft feel. Some common types of sheer curtains include,
Plain sheer curtains are the most popular type and can be easily paired with other window treatments or used on their own.
Embroidered sheer curtains feature intricate designs and are ideal for adding a touch of elegance to a room.
Sheer curtains with a pattern or print are a great way to add color and personality to a space.
Benefits Of Sheer Curtains
Sheer curtains offer a range of benefits that make them an excellent choice for any room in your home.
Enhance Natural Light And Privacy
They enhance natural light by allowing it to filter through the translucent fabric, creating a bright effect in your space. Sheer curtains provide privacy without compromising natural light which is useful in areas such as the living room or bedroom.
Adding Elegance To Your Home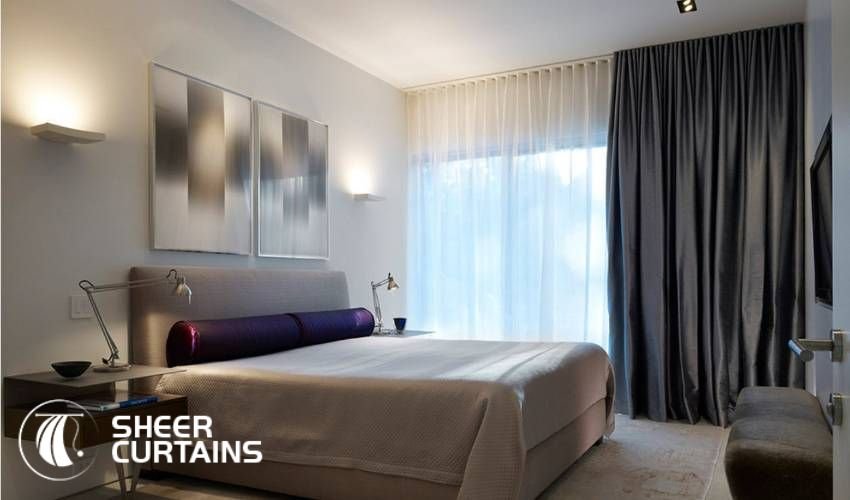 The addition of sheer curtains can instantly infuse elegance and style into any room. With a vast selection of colors and designs to choose from, it's effortless to discover a style that perfectly complements your current decor.
Versatile And Suitable For Any Room
Whether you prefer a modern or classic look, sheer curtains can create the desired ambiance. Besides their aesthetic appeal, sheer curtains are highly versatile, therefore suitable for any room in the house. They can be used alone or in conjunction with other window coverings like blinds or curtains.
Easy To Maintain And Clean
Sheer curtains are also easy to maintain and clean, making them a functional addition to your home.
How To Choose The Right Sheer Curtains
Choosing the right sheer curtains can be a hard task, but it's essential to get them right to ensure that they complement the existing décor of your room.
By following these tips, you can choose the perfect sheer curtains for your space:
Color And Texture Of The Fabric.
The first thing to consider is the color and texture of the fabric. Sheer curtains come in a range of colors, from neutral shades to vibrant hues, so choose the one that complements the color palette of your room.
The texture of the fabric can also make a significant difference. Opt for a fabric that has a soft feel to create a romantic ambiance.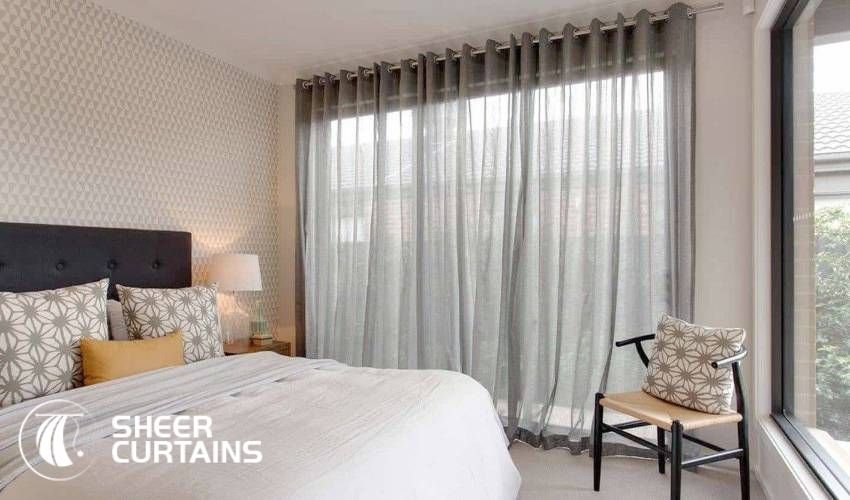 Curtain Measurements
The length and width of the curtains are also crucial. The height of the windows should be used to decide the length of the curtains, while the curtain width should be based on the width of the windows. Consider whether you want the curtains to reach the floor or hang slightly above it.
Styles Of Sheer Curtains
Understanding the various styles of sheer curtains can help you choose the perfect one for your room. From simple panels to layered drapes, there are many styles to choose from. Consider the overall look of your room and choose a style that complements it.
Tips For Decorating With Sheer Curtains
Decorating with sheer curtains provides a lot of creative possibilities and allows you to experiment with different styles until you achieve the desired look for your space.
Pairing Sheer Curtains With Other Window Treatments
For decorating with sheer curtains, there are many ways to create a cohesive and inviting look in your home. One great tip is to pair sheer curtains with other window treatments. For example, you could layer sheer curtains over blinds or shades for a more complete window treatment that offers both privacy and natural light.
Combining With Different Room Elements To Create A Cohesive Look
Another way to decorate with sheer curtains is to combine them with other room elements, such as wall art or throw pillows, to create a cohesive look. For instance, you could choose sheer curtains that complement the colors in your furniture or other decor elements in the room.
Creating A Romantic Ambiance With Sheer Curtains
If you want to create a romantic ambiance in your room, sheer curtains are an excellent choice. You could use long, flowing sheer curtains in light colors, such as white or cream, to create a soft and dreamy look.
Conclusion
Sheer curtains are a perfect addition to any room in your home. They offer a range of benefits, including enhancement of natural light and privacy, addition of a touch of elegance, and higher versatility. Choosing the right sheer curtains in Dubai involves considering factors such as color, texture, measurements, and style. Decorating with sheer curtains offers many creative possibilities, from pairing them with other window treatments to creating a romantic ambiance. With these tips and benefits mentioned in this article, you can transform the ambiance of your living space and create a cozy and inviting atmosphere.